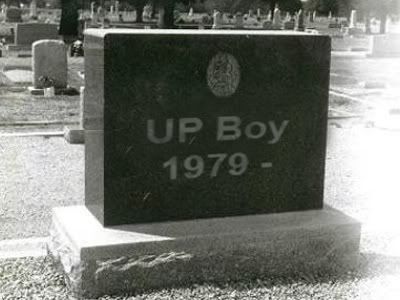 Yesterday, I attended the burial rites for the father of my best friend. I thought it was a beautiful ceremony. The eulogies were sweet and moving. My best friend and her family, though devastated by the sudden death of Tito, held things together pretty well. Prayers and faith in a beautiful afterlife helped. Prior to that, the last funeral I attended was for the father of a college classmate and for my grandfather (Mom's side). Other than these, I don't really remember. I guess people in my clan live long or I don't know too many people close to me who've rejoined our Creator. The only time I cried like a baby over someone's death was when a former colleague passed away. Until now, the cause of the person's death continues to be a mystery to me. That person was the first person close to me who passed away.
If you ask me about my thoughts on death, most of the time, I would say that I'm not really afraid of it. I don't know, but I learned somewhere and have really accepted that death is but a physical separation from this world and is actually the beginning of a new "life" - one that's much, much better compared to the "best" this earthly life has to offer.
For my 30th birthday, believe it or not and this is going to sound really morbid, one of the "gifts" that I wanted for myself was to a memorial plan. I was asking my friends in the 30-up age range whether they had memorial plans and would they be so kind and refer me an agent.
It sounds emo, but my reasons for thinking about a memorial plan are nothing but practical. I'm not getting any younger and even if I'm spending hours at the gym and I'm joining a run every so often, anything could happen anytime anywhere. And when the inevitable does happen, I really don't want to be an added burden to my folks (if I do go ahead of them) or my siblings by making them think about what to do with my physical remains. Uhm, I think that part of being a responsible and mature adult involves being prepared for whatever that comes with aging, right? That includes my departure from this earthly life.
And let's face it, death is a costly thing. The rent for the venue of the wake, the coffin, the flower arrangements, the food for the visitors, the burial fee, the paperwork, and so on. And if one is not prepared for that, one will definitely be giving his or her family something more to grieve about other than the physical death.
Being in the world of PR/CorpComm where event planning is a basic skill required because events to be covered happen almost everyday, I would even write that maybe when I reach 40, I would also start thinking about how my own funeral would be - the venue of my wake, the flower arrangements, the food to be catered, what people should wear when I'm finally laid to rest (either a.] everyone in bright/pastel-colored tops and jeans or b.] men in white shirts/polos and the women in white sundresses), what music to play, the speakers for the eulogy, the order of the speakers for the eulogy, and because my career life heavily involves mounting exhibits, do I want to mount my own exhibit (or would that be too vain? Hahaha! Just kidding, just kidding).
As for the manner of dying, well, my only wish is for it to be a beautiful death. I don't want anything that involves any decapitations, amputations or any form of mutilation. Uhm, if possible, no weird accidents too like becoming the meal of a shark or a crocodile, getting trampled by an elephant, or getting run over by any speeding vehicle as well. Shucks, Jesus would probably just give me the freakiest death for being too public-perceptions-oriented even at the point of death. Haha!
Anyway, since I was busy mounting an exhibit in Iloilo for my 30th birthday, I wasn't able to look for an agent for a memorial plan. Maybe you can recommend someone?
R.I.P, guys! - Rest in Prada (or maybe Pucci? or maybe Proenza Schouler? or Paul Smith? Hehe!)