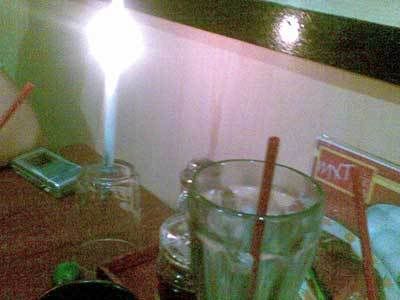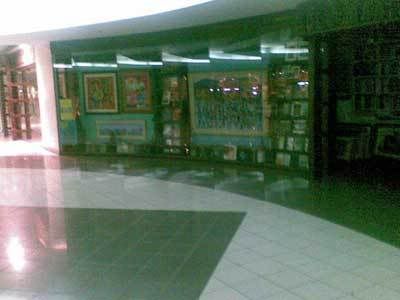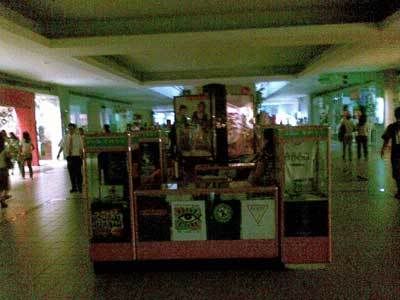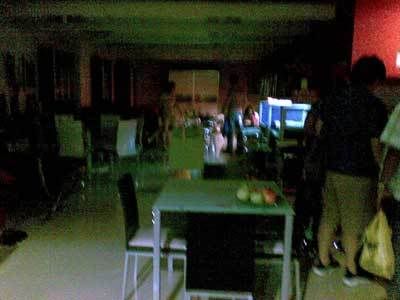 Yesterday, after an event for a partner group at the Folk Arts Theater, I headed to SM Megamall to pick up some DVDs that I ordered. I wanted to be at the mall before 8, since I wasn't sure whether they'd turn their lights off for Earth Hour or not.
On the way to Megamall, I called Carlo to see if he was free to meet up, and he was so that was good. Fifteen minutes before 8PM, an SM employee was going around the mall carrying an Earth Hour poster and ringing a bell to inform people about the "event."
Carlo and I made our way to Maxim's for dinner. At the restaurant, we asked the guy waiting on us if they were going to participate in Earth Hour and he said yes. That was good, I thought.
By 8PM, most of the lights were turned off. Almost all the shops turned off not just their signage lights, but also the lights inside the store. All the shops at the level where the art galleries are turned off their lights. At Maxim's, the waiter brought out candles for the diners.
I wanted to see what it was like out in the streets, whether the billboards along EDSA were turned off. But I wasn't able to check it out because by the time Carlo and I headed to Seattle's Best for coffee and tea, the lights were back on already.
At home, I called my brother to remind him to turn off the lights as well and I'm happy that they did do so.
I'm even happier that the company I work for also joined Earth Hour. Not only were all the lights in the building turned off, all the billboards along South Luzon Expressway were also turned off. That was great I thought.
I hope that that one hour of lights out in several parts of the world gave our "ailing" Mother Earth some "relief," even if it's of the smallest amount.