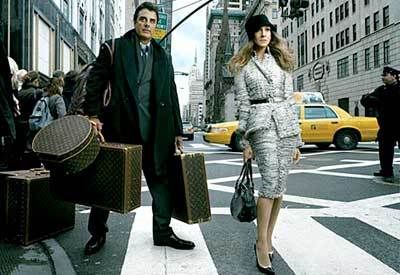 So I did watch Sex and the City last Wednesday night with some friends.
Though the movie ran for two hours and thirty minutes, it wasn't dragging. The entire movie was punctuated by drama, comedy, romance all at the right time. The most intense scene I have to say was Carrie's Town Car and Big's Benz meetup scene. Kristin Davis did such a fantastic acting job in that particular scene. Really great! Jennifer Hudson was also a nice surprise. I did read that she got the role as Carrie's assistant and I say good for her. She had more lines than Anthony Marantino and Standford Blatch combined. Hehe! Kim Cattrall's character Samantha, as expected, had several hilarious lines.
Miranda : Ooooh...the sun feel nice...
Samantha : Jesus! Honey you wax much?
Miranda : What? I didn't know I was going to wear a bathing suit!
Charlotte : What are you talking about?
Miranda : I forget to wax. I've had other things on my mind...
Samantha : I could be on death row when i've that situation!
Miranda : Well, Samantha...when you are married, you have a different set of priorities.
Samantha : Honey don't blame marriage! This one is married (pointing to Charlotte) and she's not growing a national forest! How do you even cross your legs?! Let me make you a spa appointment. Any thicker, you wouldn't be able to find it!
Uhm, there were a couple of scenes that were cut out. It was quite obvious. One moment, one of the girls would say something and the next scene is already totally irrelevant. It's annoying. I will definitely get the uncut version once the DVD is out.
Lastly, the fashion was just crazy. Awwww! It was all over the movie. And the shoes, the bags, the accessories were also like the main stars of the movie. I wouldn't be surprised if at the end credits, you'd have a list like this scrolling up the screen:
Chanel 2.55 - Carrie's bag for date with Big
Vivienne Westwood wedding dress - Carrie's choice wedding gown
Manolo Blahnik Ankle-Wrap Sequined Sandal - Charlotte's shoe for shopping with the girls
Christian Louboutin Mosaic Mirrored-Leather Sandal - Samantha's shoe for dinner date with Smith
But seriously, the fashion was awesome. The entire audience gushed when Carrie gave her "gift" to personal assistant Louise. The Vogue photo shoot scene was also done like an actual Vogue shoot. Andre Leon Talley was there. Serge Normant did the hair Gucci Westman did the makeup. Plum Sykes was sittings editor. Patrick Demarchelier took the shots. Check out the June 2008 issue of US Vogue - SJP on the cover. The fashion editorial rocks.
Just like the movie did. I think I'll have a round two of this movie. Hehehe!