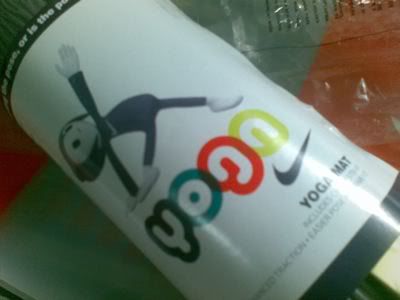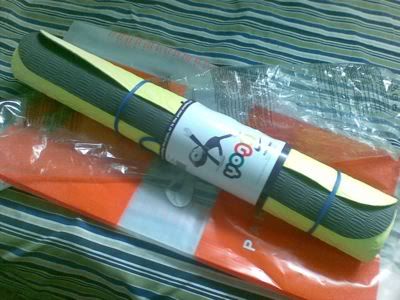 I finally decided to get a yoga mat. Haha!
Since I've been attending yoga classes regularly at the gym for the past six months now (I think), I convinced myself that getting my own yoga mat wouldn't be a waste of money. Hehe!
So, yesterday afternoon, I passed by a Nike store just to check out the yoga mats available. Kamusta naman? I ended up getting one already. It seems like a good buy. The material claimed that it provided good traction, which is what I really need. Having the most active sweat glands in the world makes some asanas difficult to do when I just use the generic mat available at the gym. Haha! Plus, I liked the color combination of the mat I got - it's like buttercup and dark grey. One side says, "I'm tough," and the other side says, "But I'm really a softie." Hahaha!
And then the character doing the triangle pose just really caught my attention. Whoever was responsible for coming up with that character, congratulations because it's cute enough to call . Of course, I then find out that the character's name is Yogirl, which probably means that Nike's line for yoga are really meant for girls. Wahaha! I wish there was a guy version too and they'd call him Yoguy, or Yoboy, or something similar. Hehe! I've seen of the yoga apparel with Yogirl designs, and if the cut of the shirts were meant for ladies, I would've gotten one. Haha!
I have to thank my friend Bernice for getting me into yoga. We didn't really attend yoga classes together, but she was sort of my inspiration. Before she left for the Netherlands to do grad school, Bernice would always be coming from her yoga classes before we meet up. Because she's doing yoga, she's also an influence to healthy eating. As a semi-vegetarian, our get-togethers are always, always sure to be dining of the healthy kind.
When I started going to the gym, it took awhile before I attended the yoga class. Initially, I thought I wouldn't be able to do the stretches and that I would just be embarrassing myself. However, after attending one session and seeing that I could sweat a lot, really a lot, during an hour of ohms and hums, I told myself that it's worth doing.
Since I've started, I think my flexibility has improved. I could reach my toes comfortably, something I couldn't even when I was really thin more than a decade ago. Haha!
One thing I also like about yoga is the challenge to do the poses. Gawd, I know I still have a long way to go but right now, I'm loving it that I can do a decent natarajasana (dancer's pose) and warrior's pose (all three version… yuck, yabang! As if they're difficult poses Haha!), and so on. I'd like to be able to do the bakasana (crow pose) and a proper shoulder stand though someday. Haha! We'll see.
I hope that by the time that happens, my yoga mat would still be alive. Hehe! For now, the yoga mat will just have to help me with my tree pose, half-bow pose, king pigeon pose, and missionary pose. Ooops, the last one is not really included. Hahaha!
Namaste!