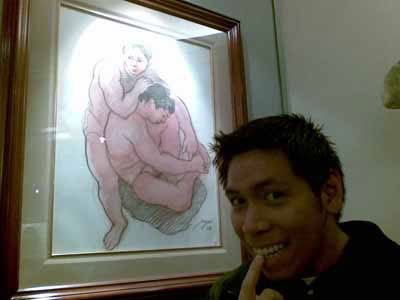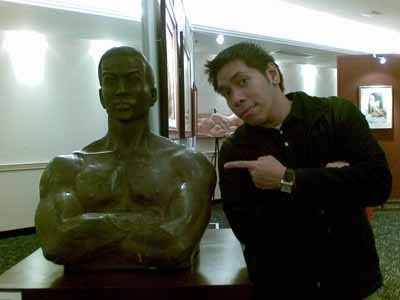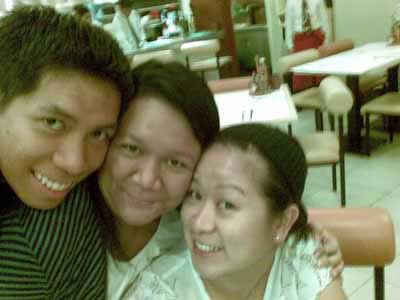 Hung out yesterday evening with two friends who I haven't seen for quite some time - Noreen and Kareen. Nope, they're not sisters. Neither are they twins, or lovers. Hehehe! It just so happened that their names sound alike.
Anyway, I haven't seen Noreen because she's been so busy writing for ABS-CBN and stalking Zanjoe. (Haha! Love you, friend.) But I'm happy for her because she's doing something that she loves. Kareen, on the other hand, is in between jobs so I think she's just been enjoying the free time.
We met up at Gateway Mall to check out the 100 Nudes exhibit of UP at the Mandarin Suites. It was a nice exhibit. There was a good combination of artists, from the masters to the contemporary to the new ones. There was also a variety of media - from pastel to wood sculptures to charcoal to pen and ink and so on.
We lent one of the pieces that is on display. It's a "Malakas and Maganda" sculpture by the late artist and our neighbor Anastacio Caedo. The piece has been in our house for the longest time and I haven't really been paying attention to it. Who knew it would be included in an exhibit like this? Hehe!
Afterwards, the three of us had a good dinner and catching up. The two girls also went shopping because of all the sale that was happening. Hehehe! And then we caught the last screening of Made of Honor. It was a so so movie. The only part I really enjoyed was when Patrick Dempsey and Michelle Monaghan had that chat and the door was between them. Cheesy person that I am, I enjoyed the confessions of the girl. All three of us were giggling because we were loving the lines. Hahaha!
Good Saturday night, I must say.