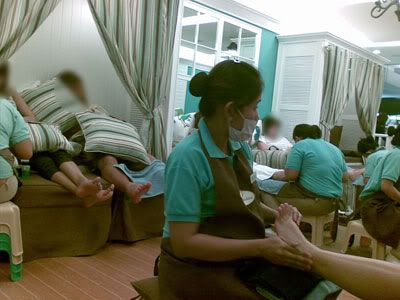 Because I'm a semi-retired kaladkarin guy, I let a colleague talk me into going with her to Megamall over the weekend.
I'm not really a big fan of Megamall or for that matter, of any place that's really, really crowded. Hehe! The claustrophobe in me gets me all restless and a bit paranoid. Though it's really not the serious kind of paranoia where I hyperventilate. I'm just really not a fan of huge crowds. Hehe!
Anyway, as expected, the mall was packed. But since we were going to a floor that's rarely visited, I didn't have much to worry about. My friend went to see her derma, and I headed to a CBTL to work on the draft of the awards entries.
The atrium of Mega is perhaps my favorite part of that mall. I was surprised to see a huge Fred Perry shop, and there's this nice menswear store 5cm.
After my friend was done with her derma visit, we headed to Nailaholics at the 5F for a foot spa and pedicure. I rarely do this, so after a very comfy 45 minutes at the nail salon, I ask myself why I don't get it that often. Hehehe!
The amusing part though was the nail ladies thought my friend and I were together together. When I asked one of them to take our photo for this blog, she goes like, "Sir, kaunting lambing naman diyan."
Hahaha! Teh, di mo alam sinasabi mo, Teh.
My friend and I were laughing about the whole thing after.
But the biggest laugh trip was after we were through with the foot spa and the pedicure, my friend went into one of the private rooms to get waxed. Ouch!
I, on the other hand, stayed on the couch and took a nap. Every so often, I would wake up just to check that I wasn't drooling (haha!) and to see if she was done. The nail lady who did my legs and my nails kidded me, "Sir, pasok kayo doon, o." referring to the room where my friend was getting her procedure.
I just laughed it off. In my head, I was going, "Teh, gusto mong tumakbo ako palabas ng salon na naghihihiyaw." Hahaha!
Hay, apparently, my black Jack Spade tote wasn't good enough to be my OGT. Hahaha!