What a year it has been! 2009, to date, has got to be the most nega year ever. Well, except for the year when that "smelly" day happened back when I was in first grade (hehe!), 2009 was one year I can't wait to be over.
Still, despite all the things that happened, it is a year to be thankful for. Life is after all what you make of it, yeah?! When life throws shit at you, you either let it hit you right in the face or you dodge it, hold your head up high and start singing Defying Gravity. Haha!
Here's a list of things that made 2009 still a year worth remembering, despite and in spite of, everything.
1. Career - Work has been really good this year. I was reassigned to do publicity and communication support for the company's corporate social responsibility activities with a focus on environment and disaster-response/emergency-preparedness. The new work assignment led me to be "greener" and "a bit more disaster-ready" after being deeply immersed in various work-related activities. Several Fridays were spent mangrove planting and tree planting in Ipo and CamSur. As for disaster-response, there was Ondoy and Pepeng and the maritime tragedies that came one after the other. The year was just about to end and we still had the two sea tragedies.
2. Volunteer Opportunities - One of the things I like about my work is that it allows me to do something really close to my heart - volunteer. In summer, I got to visit one of the most southern provinces of the archipelago to help build houses. When typhoons Ondoy and Pepeng struck, I was part of the team deployed even before the waters in several areas have subsided. It was work but when you're already there at the scene amidst the people, a blurring of lines between work work and volunteer work happens.
The typhoons may have destroyed lives and homes, but it was also a time when heroes were born and shone. I still remember that night a day after Ondoy wreaked havoc. I was in Marikina for relief operations and coverage. And in the dark of the night, with nothing but flashlights and the light from the vehicles that brought relief goods, I saw Fr. Ben Nebres walking in the mud with the Ateneo volunteers handing out relief packs to the affected communities.
The work was difficult, but to be amidst men and women who readily extended a hand was an experience to be treasured.
3. Siem Reap + HCMC and Zambo – New travel destinations are definitely a highlight of this year. I've been dreaming of Siem Reap for the longest time. This year, that dream became a reality. And it was fantastic because it happened on my 30th year of being alive. I was lucky to have found a travel buddy in Wes, the college barkada of Xoch. We talked about going to SR sometime in January and the next time we saw each other was at the NAIA Terminal 2 to board the flight to HCMC en route to Siem Reap!
Locally, there was the trip to Zamboanga for the Gawad Kalinga Bayani Challenge. I fell in love with the place. It was just so rich culturally and despite all these news reports about Mindanao, the province was able to find a place in my heart.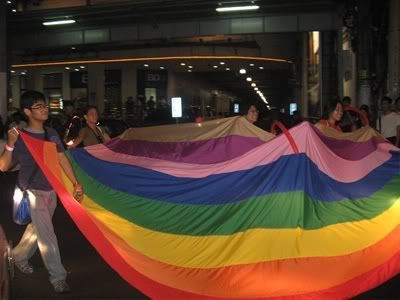 4. Pink Year - The last quarter of this year was the time I reconnected to my "community". And by reconnect, I mean hitting Malate again to party and be surrounded by brothers in the fraternity. Wahaha! Yeah, there are probably other ways to rejoin the community, but this was the easiest way.
I still remember the night that I went to Bed again after ages. I was with Roy and we just had so much fun, that we ended going home really late... or really early for the next day. Haha!
Aside from doing the whole Malate thing again, I was able to see my first Pride March. I was planning to attend the parade, but it happened on the same day that I had a commitment to do volunteer work for kids. Still, I got to see the tail end of the parade. That and anti-gay Christian groups which condemned the parade as it passed by the streets of Malate.
That was something.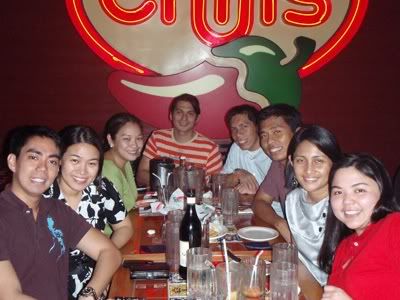 5. Friends - If it weren't for friends, I would have gone mad already. Alright, that's OA. Hehe! But this post is starting to be really serious. Hehe! All I'm saying is that I'm glad to be blessed with good friends. The Internet has been very instrumental in forming new friendships and in further strengthening existing friendships.
Thanks to Facebook, there is still that connection with college buddies. Len came home from Australia and that was a good time for Orcom peeps to meet up and reminisce the Faura days. Then, there are the dinners at the Evangelista-Martelino home, which are always enjoyable.
Thanks to Multiply, I met great friends in Lucas, Whax, Alonzo, Dricky, among others. We rarely see each other but I know that these are good people and are good friends I can count on.
Thanks to Twitter, I also met some new friends. Just before the year ended, I joined the guys - @outednarnian, @jcfontsize, @Misterhubs, @mgg, @shattershards, @jaybeecc- to name a few for videoke. Then, I also met @MkSurf8 when I went to Bed one time.
Then, there's Wes who was my travel buddy for Cambodge/HCMC. His gadgets kept us sane during the 12-hour bus trip from HCMC to Cambodge and back. Hehe! Thanks, Wes!
And of course, my usual buddies. You know who you are. Hehe! Love you to bits.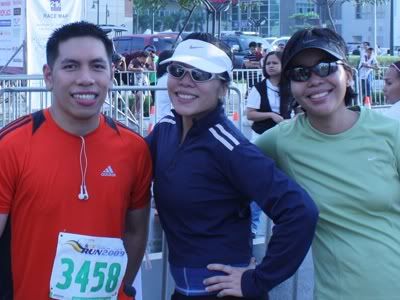 6. Fitness - 2008 was declared as fitness year, but it would be 2009 when that declaration would materialize. The company got a corporate discount with Gold's Gym and it was really stupid if I didn't take advantage of that discount. It's been almost a year now since I've been going to the gym and I've seen results. Initially, I was doing just the classes - spinning, dance, yoga. But in the last quarter of the year, I started hitting the machines, too. I'm going more frequently, too which is good because fitness seems to have definitely been included in the lifestyle now.
Dietwise, I kicked soda and replaced it with juices. I have cheat days though just so I would still have my Coke Zero fix. Hehe!
I also got into running. It's just recreational running, but I still enjoy it. The highlight of the year is ending 2009 with my second 10K. It was crazy because I didn't get any sleep the night before the run. Lady Gaga helped me cross the finish line. Haha! But seriously, it's something I shouldn't do again. My target for 2010 is to do a half-marathon in Singapore. I figured if I'm going to do a half-marathon, I want the first one to be really, really memorable. The Standard Chartered SG Marathon is in Dec. 2010 so I have enough time to prepare for it. Haha!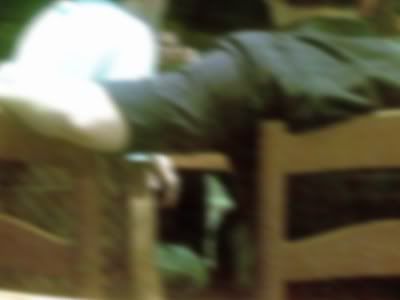 7. (Almost) Un-single - At the start of the year, I met my Aha! Guy, who helped me realize that I'm already okay. Aha! Guy doesn't know he's the Aha! Guy but he's definitely a good friend.
Sometime in February, I met someone. I think I was two steps away from falling in love with him. Laugh all you want but he was the guy I was praying for. I've been taught to be detailed in my prayers, and the guy was everything in my wishlist. I just forgot to ask God to make the guy single. Haha! I thought that was already a basic requirement, Lord. Hehe! Anyway, I told the guy I was going to back off and he thought that was the right thing to do. I felt bad about it because we clicked, we really clicked. He was cute, smart and funny. Someone I could bring to a family thing or a company thing and I would be proud to have him. That night at some Katipunan campus was the beginning and the end of what could have been something nice in a parallel universe.
After him, I met some two or three more guys. I thought there was this one guy who was a prospect, but he was in a complicated situation. And I just decided that I don't want any complications. Haha! I really dunno what to do with this whole dating thing. Either something's really wrong with me or the ex put a curse on me. Hehe! The only good thing I like is that I've gone out of my comfort zone and somehow, put myself out there again.
Anyway, that's all going to change because I'm going to change my FB status to "In a relationship" this January 2010. It will happen! Hah! I dunno who but it will happen. And I'm telling that "truth" to the universe just to make sure it hears me loud and clear. Haha!
Note: That photo above isn't me. I just saw this couple at some restaurant on one of my night-outs. Hehe!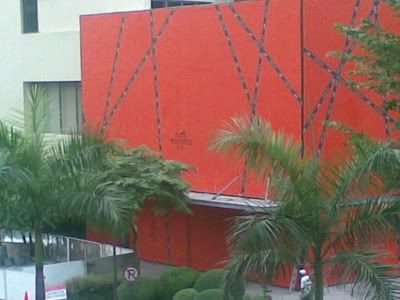 8. The impossible has happened. The happy place that brings goodies in bright orange boxes has arrived in Manila.
Hermes opens in a store here.
Okay, I'm just kidding about this no. 8 item on the list. Pang-joke lang. Hahaha!
Happy New Year everyone!!! Good riddance to 2009, hello 2010! :)