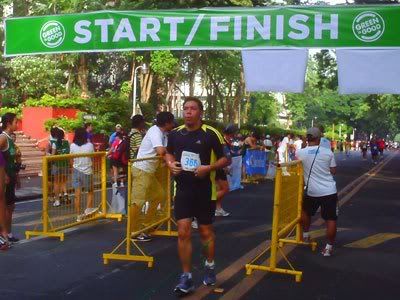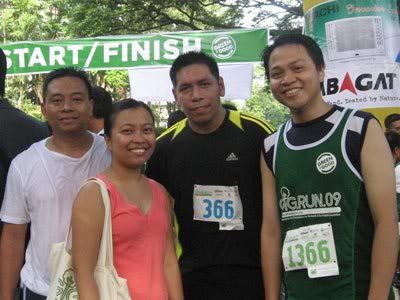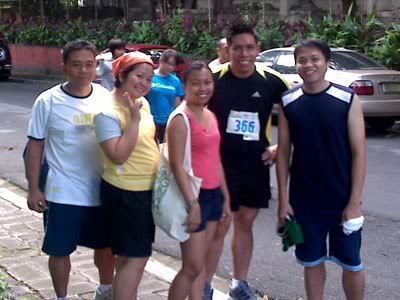 Having my first 10K is going to be the highlight of the week. Unless, of course I win the lotto or finally meet the one who'll grant me the dream to be a Stepford husband...hehehe... both of which are really unlikely. So I guess I'll stick with the 10K. Haha!
Yesterday was the Green is Good run in UP Diliman. Hey, that's my second run for the month. Woohooo!
It was really a good run to join. First, venue was in UP Diliman. As I've mentioned in a previous blog entry, I thought the change in scenery would be nice. It's always a joy to go back and see the old buildings, the Oblation, the Shopping Center, and so on. Second, the run was for the environment. Money to be raised will be used for a project for the Ipo Dam, I think. With the recent work assignment on the environment beat, I must say that I did get a bit "greener." Plus, I've actually gone to Ipo Dam and planted some seedlings so the whole run became more relevant. Third, we were a sponsor so I didn't have to worry about registration fee. Hehe! Hey, P250 is still P250, yeah?!
In one of my FB statuses, friend Gino said that I should just go for a 10K, try it out and see that I could actually do it. That's basically one reason why I decided to go for the 10K this time. I mean I'll never really find out if I can do it unless I try it, right?
So when Tey gave me the reg form for the run, I nervously checked the 10K box and gave the form back to her. And when I got my race pack last Friday, I thought to myself, "This is it. No turning back now."
I was a bit worried whether my knees could take it, or if I was prepared. My two other running inspirations, sisters Arlyn and Ryse, told me I can try the 10K when I can do a full 5K run without stopping to walk.
I knew I could already complete a 3K or 3.5K full run, and last Friday I tried to do a full run 5K on the treadmill at the gym. I didn't collapse, and I was still breathing regularly. In fact, I pushed myself a little more and did a 7.5K. That was my only preparation for the 10K run. (Well, unless you count the spinning and dance classes, but if we're talking about just running, then I haven't had plenty of practice in the past weeks.)
The run generally turned out to be quite good and enjoyable. As with the other runs, I always enjoy, enjoy the few minutes before the run. There's just so much energy, so much life in the air. Deadma na that I missed the White Party in Malate. I'm sure there were "others" who wanted to go to the party, but wasn't able to because they signed up for the run. Haha!
When the go signal was given, I revved up myself and started with a jog and later on, increased my pace. Uhm, I hated the stretch from Malcom Hall down to SPEAR, the roads were going up and down and I could really feel the shock on my knees. Argh! Other things that I didn't like were the fact that there were no more water stations on the second round of the 10K and that the timer seemed to have gone bonkers so that when I actually crossed the finish line, I had no idea what my time was. I hope the organizers release the results though. It's quite important me, since this will be my benchmark for the succeeding 10K runs. Hehehe!
What was enjoyable aside from the running environment was the company, of course. Went there with my colleagues and it was fun. Congrats to Rhyz for doing the 5K! Woohoo! Thanks to Reena for documenting the important event! And great hanging out with Luciano, Kuya Manny and Raya! Woohoo!
After the run, we headed to Shopping Center to complete the UP experience by having breakfast at Rodic's. Yey!
I'm already eyeing a next run. I just don't know if I can write about it because I may already be jobless the following day, if I wrote about it. Hehe!