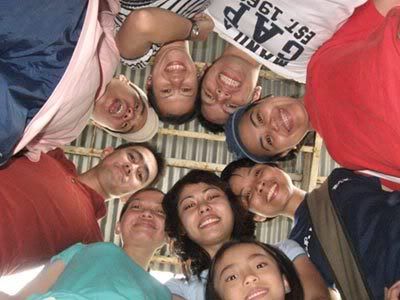 How was your weekend? Mine was pretty good.
Friday night was spent hanging out with the usual suspects from the office. We went to our own version of the "Ally McBeal" bar near the office. OT (for Odd Table) along Valero is the other "office" for us and several other colleagues from work. Haha!
What made this nightout quite special was the fact that Tey joined us already. It's sort of her comeback and I couldn't be more happier that she was somewhat ready to hang out again with her "boys." Hahaha!
I was supposed to meet Winston and Errol after OT. That didn't push through because I was a bit tired already, and they weren't really up for Malate as well. The night ended pretty late though. I think I got home around 1 or 2AM.
Saturday afternoon. I found myself boarding a bus bound for Tagaytay. It was my first time to take a bus to Tagaytay, and the trip was quite good. I slept through most of it. Having worked for a volunteer organization for the first three years of my career life has made me a pro in sleeping almost anywhere. As soon as I found my seat, it didn't take long for me to fall asleep. Hahaha!
I didn't even notice whether the traffic was horrible considering that it was a long weekend. I left Manila around 3:30PM and I reached Tagaytay by 7PM.
It was the post-birthday celebration of Pahinungod friend Joi, and a bunch of us Pahinungods headed to her home in Tagaytay to party. It's always nice to see friends from Pahinungod. They remind me of that thing which I really love, and hope to someday do again. Joi is also a really good friend who I always enjoying hanging out with. I remember when I went to Singapore last year, tambay time with her and another Pahinungod friend Jean was one of the best things that made the trip really memorable and enjoyable.
I was hoping to see my friend Sean who also lived in Tagaytay, but something was wrong with the network in Tagaytay. I kept calling both numbers but I couldn't get through. Oh well. Sayang.
Anyway, we spent the entire night just talking and drinking and doing karaoke and drinking. Haha! The following morning, we took a short road trip to Sonya's Garden for some photo op, then to Mushroom Burger for lunch. Afterwards, it was time to head back to Manila.
Surprisingly, the trip back was much faster. It took only about two hours. Quick, huh?
When I got home, I just hit the bed to get some proper sleep because I was planning to head out again that night. Wahaha!