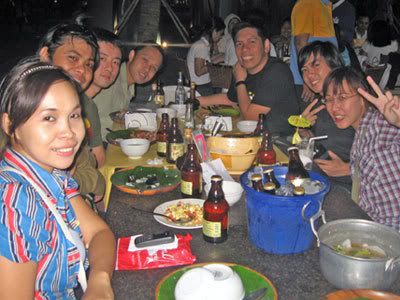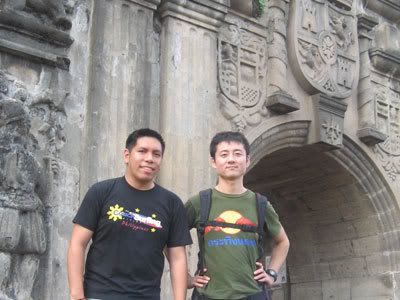 Yesterday was spent with some new tomodachis. Hehe! (Tomodachi is one of the very few Japanese words I remember.)

Anyway, Yasuyuki, a CSer from Osaka arrived in Manila yesterday and a bunch of Manila CSers got together to show him a little of the city before he flew to Coron today for some diving. Chad picked him up from the airport and I met the two at the Quirino Grandstand. It was my first time to meet both of them, but what's ncie about CS is that you easily establish the friendship, or at least very rare is there some awkwardness. It's one great way of honing people skills, that's for sure.

From Luneta, we walked to nearby Intramuros and brought Yas to the ever reliable Fort Santiago and other historical landmarks inside Intramuros. We then took a jeepney ride and got off at the Malate Church, for some more walking along Roxas Blvd.

After several hours of walking, we made our way to SM Mall of Asia where we met up with other CSers. We decided to stay at Aling Tonya's restaurant, which was one of the restaurants along the San Miguel by the Bay strip. For dinner, we had shrimps and sinigang na maya maya I think? We got Yas to try the local paluto. While I watched over our stuff, Yas and Chad did a little seafood buying. Hehe!

It didn't take long before more CSers arrived. Paolo, Tiger, Archie, Faye, Des, and Nicky joined the group. There was also a last minute addition. A Korean CSer Yong Joo just arrived in Manila from Cebu and he got the number of Nicky from Dawnie. So before the long fun dinner at Aling Tonya's ended, we were quite a good number of people already actually.

Because we didn't want Yas to miss his early morning flight, we bid him and his host Tiger goodbye around midnight. The rest of the gang, however, headed to Malate for some partying and dancing. Hehehe! We finally called it a night around 3 in the morning. It was a fun get-together.

Any get-together with tomodachi, new or old, is always fun anyway, hai?