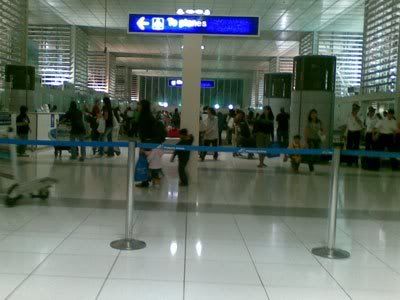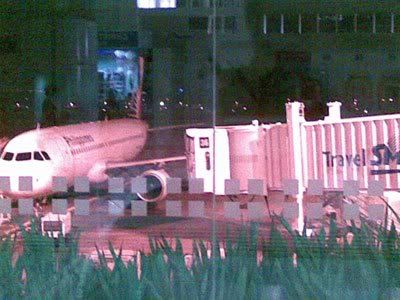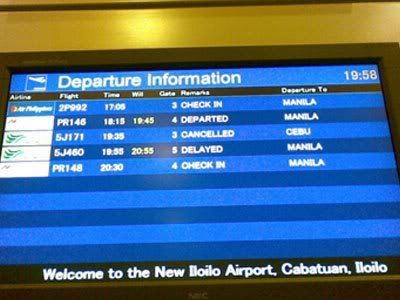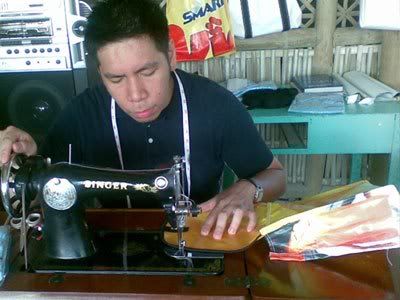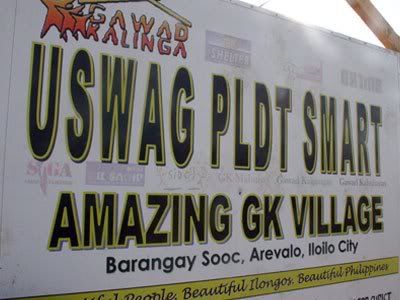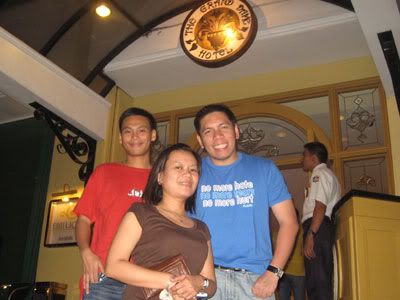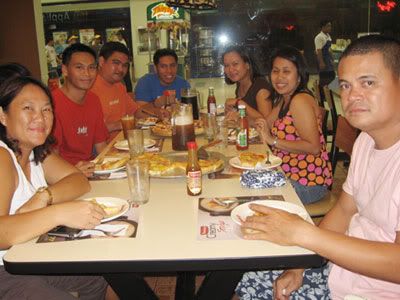 Thanks to work, I got to visit again a city I fell in love with a year ago - Iloilo.

Though with only two hours sleep because of Spelling Bee, I still had the energy to get up and make it to the very early morning PAL flight. I must admit I was really happy to fly again. I was happy to see Terminal 2 again. I was happy to be onboard a plane again. I was excited to hear "sinturong pangkaligtasan" and "paliparang pandaigdig." Haha!

But above all, I was really, really glad to be in Iloilo again. I love everything about it. I like Grand Dame. Hehe! I love Smallville and Boardwalk. I love the restaurants that I've tried - Nes and Tat's, Dapug, Afrique's, Escas, and JD Baker Cafe.

The entire day was spent at the Gawad Kalinga village in Sooc. There was a training for the parents about a livelihood project. Can't write much about it yet, but the photo above should give you an idea. Haha! Anyway, it's always a joy to visit that village because the kids and the parents are very warm. They always have a smile on their faces whenever I go there. The kids enjoy posing in front of the camera, while the parents are always asking if I needed anything. I'm always amused that they would talk to me in Bisaya and although I would only kasabot gamay (hehe!), I still get the essence of what they're saying (most of the time).

In the evening, we went to Smallville, which I really loved. Started out the night at Bourbon Street, then we moved to MO2's Ice. We were lucky because though it was a Sunday night, the place was packed with kids (read: fresh college grads celebrating their "freedom" from the university... hehe!) Really, really enjoyable night! Haha!

By Monday night, I was on my way back to Manila. Though it was only an overnight stay in Iloilo, it felt like being there for several couple of days. I wish I could go back to Iloilo for a vaction. I'm sure I will.