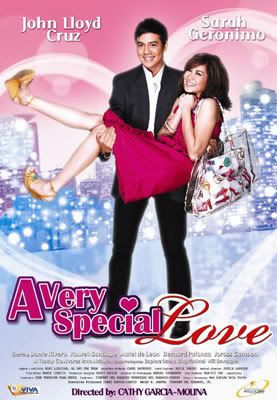 A couple of friends from work and I decided to watch the 8PM G4 screening of Star Cinema's "A Very Special Love." Apparently, so did the rest of Makati. The line to get in the cinema was so long, it reminded me of my registration days in UP. Haha! Then, it was only when we got there that we found out that the cinema where the movie was showing does not have reserved seating. So we had to pressure the rest of the group to get to the cinema asap.
But it was all really worth it I thought. Excellent, excellent movie. Carlo once told me that all the possible stories have already been told, what would make the difference is how to tell an old story. He's right. The story of the movie is already familiar - average girl dreams of prince charming, prince charming is a rich snob up in an ivory tower, something happens, something even nicer happens. I won't spoil it so don't worry.
But the movie treatment, the way it was directed, the cast, the script, among others, was able to tell a familiar story in another way.
Initially, I didn't think the John Lloyd-Sarah tandem wouldn't really work. Maybe because I thought they weren't really bagay. But it was that very factor, I think, which made the movie even more interesting. It was my first time to see Sarah act ever, and she did well I thought. But John Lloyd, oh boy! This guy really just keeps on getting better! I've seen several of his flicks and man, I love the guy. He's really good. Really good!
And then of course, there's Cathy Garcia-Molina whose works I'm starting to like. I've seen a couple of the films she's directed and they've all been really enjoyable. Whatever method she's using to do her films is really working.
When the entire cinema laughs, when the entire cinema says "awwwww" and when the entire cinema applauds once the end credits start to roll, then there's no questioning that the film is good, right?
Lastly, it is only right that I mention one person who's to be recognized for the fantastic story and script - Raz Sobida Dela Torre. I don't know the person. I don't even know if Raz is a guy or a girl, but Raz is to be congratulated. Oftentimes, the audience only remember the actor or actress who played in the movie. But I have already reached that point where I know that while the actors are a huge factor in making the movie a success, it is the writer (and the director) who make it all happen.
And it is because of these people that Pinoy movies are nice to watch again.
Can you tell that I really loved the movie? Hahaha! This is starting to be a lengthy post. Hehe!
Alright, go watch the movie. You can check out the official site
here
.
And just to be cheesy, in my case, a special love would be more than okay. Kahit hindi na a very special love. Hahaha! Okay, you may now go ahead and throw up.