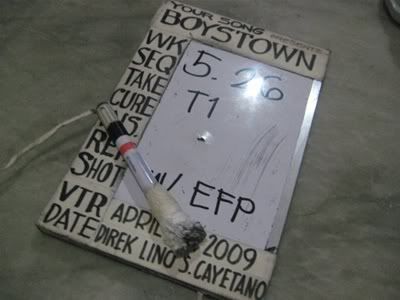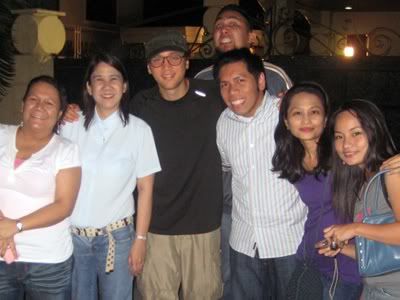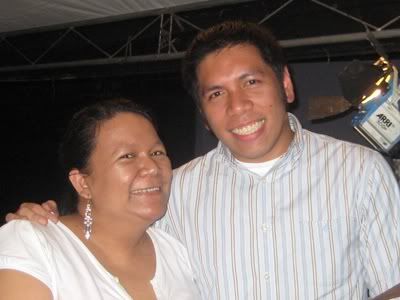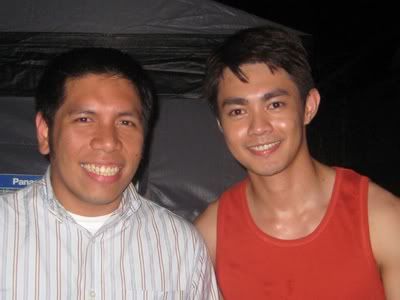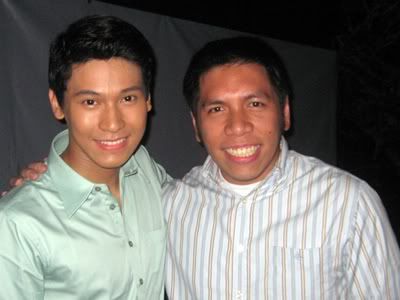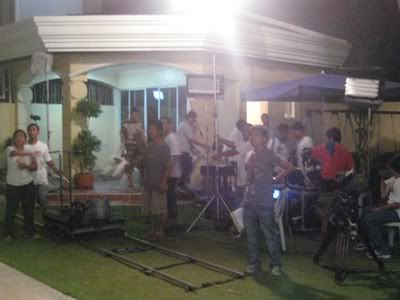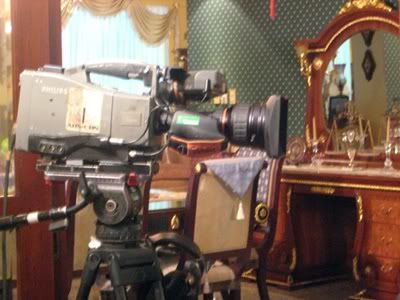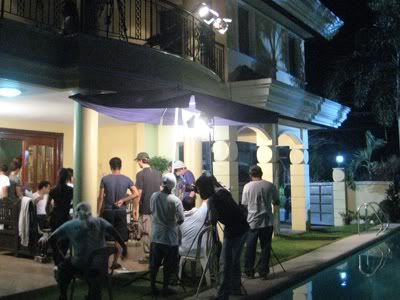 "You want to go to see Enchong Dee?" asked good friend/former colleague Noreen via text last week.
I've been bugging her to get me an autograph with the kid for the longest time, so I was really one happy boy when I got the text message above. Woohoo!
Though I'm swamped with work, I just had to make time for this. Who knew when another opportunity like this would come along, right? Better to grab it now.
Noreen told me we were going to visit Enchong during the taping of Boystown. The location was in some village in Pasig. I'm not that familiar with Pasig, and I know how horrible traffic is on a work night, but I chose to ignore all of it. Hehe! It's not every day you get a chance to meet Enchong, right? Unless of course, you study with him in DLSU.
Anyway, together with Noreen and super nice colleagues from ABS-CBN, we arrived at the house where the shoot was at around 10PM. The camera was rolling so we had to wait outside the house. There were lots of people nearby waiting for a chance to get a glimpse of Enchong and the other cast members.
After a couple of minutes, Lino Cayetano came our way. He was directing Boystown. Noreen and the girls just love him. And it's not hard to see why. He really looks like a nice guy.
We told Direk we were visiting Enchong and he told us that Enchong was just at the tent chillaxing since it wasn't time for his take yet. After getting a souvenir photo with Direk Lino, we headed towards where Enchong was.
When we got to the tent, he was just outside hanging out with the crew and he seemed genuinely happy to see Noreen, Bing and Yam. I guess that's one of the really, really enviable perks of being in showbiz, huh? The celebrities remember your name and they really remember your name.
I wasn't that starstruck because I already expected Enchong to be warm and accommdating and ultra down-to-earth. He was. He is. He was patient enough to let us have our photos taken with him. I had to get like four just to be sure. And then I asked him to sign a "Hi Maver" card for my colleague Monet. Some more photos and then I said my thanks.
He said, "Salamat po, KUYA Angelo." Wow! I'm really getting old, huh?!
And it's true. Because after the Enchong encounter, I just hung out with Noreen and the girls and watched the taping, and that's when I realized I have not the slightest idea who the kids on the set are.
Save for Dino Imperial (who did a PLDT endorsement), Ron Morales (because of Bench), I had to ask Noreen who the other guys were. A little Google and that's when I found that the kids were collectively known as the Gigger Boys. For what reason? I have no idea.
I left the set around midnight. If I didn't have work the following day, I would have loved to stay and just watch the taping. It is interesting for someone who belonged to the "outside world," so to speak. It was my first time to attend a taping of a TV show so it was really quite an experience. Yay!
Thanks again, Noreen!!! You're the best. Next na si Megastar, ah. =)
Haven't been posting because work has just been really, really toxic. I've missed a lot of running time and spinning classes, because the to-do list just keeps on getting longer and longer. Haha!
Catch Enchong on Your Song Presents: BOYSTOWN this May 10! Definitely, definitely going to watch it.