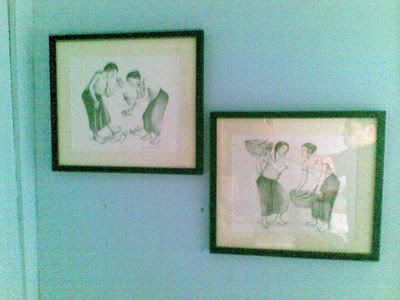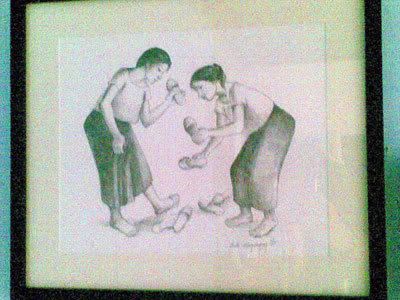 Yesterday morning, I dropped by Gallery Frames to pick up the four pieces I had framed ages ago. I was glad that all pieces were still okay. If you are looking for really high quality professional framing services, go to Gallery Frames. The prices are a bit steep, but you're sure that the pieces are well taken cared of.
Anyway, in the afternoon, before meeting up with Carlo, I got into some "room cleaning" mood since I had about two hours to spare. So I started dusting corners and sweeping the floor and folding my clothes that need pressing. Haha! And then I asked my Dad to help me hang some of the pieces that I had framed.
Now hanging just above my bed are the two Anita Magsaysay-Ho reproductions. Though they're just reproductions, I value them so much because they were signed by the artist herself. Plus, the works above are gifts from former colleagues so that adds more value to it. I don't know if I'll ever be able to have an original work of Nana, so I'm already finding much happiness with the two pieces.
Anyway, this is going to sound weird. Half of my room is newly painted, while the other half still needs painting. I haven't had the time to buy paint because of the new job and I'm just not too happy about shelling out P1,000 for a gallon of paint. Hehehe!
But I should really get the painting job finished, because the other framed artworks are on the floor and waiting to be hung. I don't know though if I have enough wall space to hang the remaining twelve pieces. Eeep!!!
2007 was a year that I really got into the whole "art collecting" thing. Looking back now, I was lucky enough to get several original works from a couple of artists. The last purchases for the year were Claude Tayag numbered serigraphs. (This is why I want the Claude Tayag serigraph from the Love Out Loud auction. I'm planning to make a triptych of Claude Tayag serigraphs.) Next year, I'd like to get a Kiko Escora and Jason Moss, and perhaps, a Maria Taniguchi. If anyone is feeling generous enough to give works of the artists I mentioned, or works by Garibay, I'd be one happy boy. Hehehe!