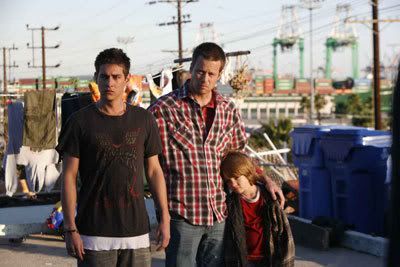 The weekend turned out to be a movie weekend - Trick, Soldier's Girl and...drumroll please... Shelter.
But before that...
Yesterday morning, I was supposed to meet some people for a get-together, but that fell through. The get-together pushed through, but I wasn't able to go join so that was a bit of a bummer. I was really looking forward to go see these people.
The entire afternoon was spent sorting papers, newspapers, folders, forms at my cubicle in the office. All these junk is starting to pile up and it's about time that I sit down and go through the stuff to sort the trash from the important files. Four hours wasn't enough, but at least I was able to put some semblance of order in my files. Though Thom Filicia would still faint if he saw my work area. I'm a disgrace. Hehehe! Though I think I would get pogi points for the file organizer and the labels and the Angelo corkboard. Hehe!
The last one is a corkboard which has some stuff posted on it that reminds me who I am. I'll take a photo of it one of these days and post it. I think I need it because I'm afraid of turning into something I'm not, just because...
Anyway, in the evening, I stayed up late to watch Shelter. Really good one. It's been awhile since my last good film from that genre. It's as real as it can be. It made me wonder a bit why local indie films can't write a simple plot like that. Most of the local films I've seen are either tragic or overly dramatic. Or it could be funny but the object of laughter is the main character. Sigh.
Going back, Shelter was a fantastic watch. I love the storyline. It's so simple. The film is set in Southern California and it's about young graffiti artist Zach and his rich best friend's older brother Shaun. Talented as he may be, Zach gave up his dreams to take care of his five-year-old nephew Cody. Surfing and art serve as his escape from the family drama. When Shaun comes home for a few weeks, sparks fly between the two. This makes Zach take a look at his life once again and make new decisions that would affect his future, Cody's future and a future with Shaun and Cody. I love the soundtrack. The choice of music was just great. And I love that, like I said, it was close to real life. Much applause to Jonah Markowitz writing/directing and JD Disalvatore for producing.
Trick and Soldier's Girl are two films I've seen before. Both films are great. Trick is a good drama/comedy between a young musical writer and a young man. What was supposed to be a trick turned into something else. That was cute. Soldier's Girl, on the other hand, was intense. And it's heartbreaking because it was based on a real story and it's a bit scary because the tragedy that happened to Pvt. Barry Winchell can happen to anyone. For choosing to be different, for choosing to love differently, the price one had to pay was, in this case, his life. I had to watch again my favorite parts from Shelter after seeing Soldier's Girl just to lift up my spirits again.
So even if my weekend turned out to be quite by myself. I was glad that Zach, Shaun, Gabe, Barry and Cali kept me company.