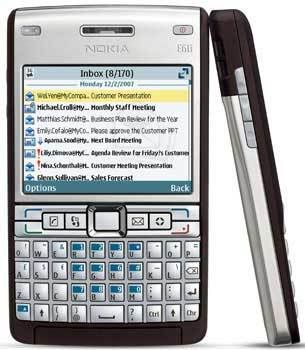 I'm thinking of getting a new phone. No, I need to get a new phone. I really need to get a new one.
Even if we're not required to have a really advanced one, there is a feeling that you're already expected to have a hi-tech phone when you work for a major telecoms compnay. Hehehe! (Can you imagine me bringing out my Nokia 1600 in a meeting, and all the other phones in the room are all 3G capable? Either that or they're Blackberries.)
Originally, I wanted the Samsung i600, but after hearing not so good reviews about its battery life, I had to search for another one again. So far, I've got my eyes set on the Nokia E61i.
I think all the features of this phone would be useful. The only downside is that it doesn't have a camera for video calls. Otherwise, it would have been really a perfect 10 for me already.