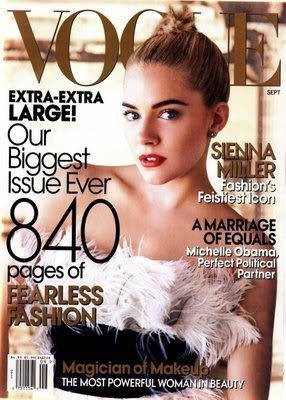 The September Vogue has just hit the newsstands and boy, it is thick?!
From what I read, it's 840 pages of editorials, ads and text. Surely, it'll be sold here in Manila for about P750 (around $15). Eeeep!
On the cover is Sienna Miller. I'm not really a Sienna Miller fan, but I can't wait to see what they clothed her with.
I'm not sure but this whole "really-thick September issue" of Vogue started about three years ago. The one where the cover was a gateway of the new breed of models - Gisele, Natalia, Daria, Hana, Liya, Gemma, Isabeli, Karen, to name a few. I think that was really a fantastic cover, compared to the ones that followed - SJP and Kirsten Dunst.
Anyway, read more about the September Vogue in this
review
of Cathy Horyn of NY Times. (She and Sarah Mower are my two favorite fashion journalists.)
Hmm, I'm not sure if I'll buy the issue already or if I'll wait for October. By that time, the price would have been slashed by as much as 50% off.