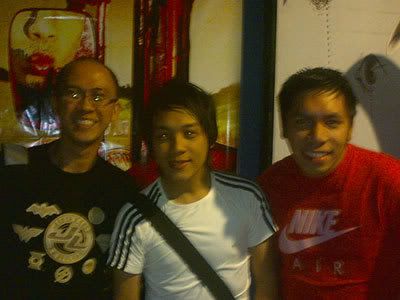 Met up with Carlo and Wes yesterday for Thank You Girls at Robinson's Galleria.
We met up around 6PM at Cafe Med for Carlo's birthday dinner. Hehe! Although his birthday is really today. I met Carlo, if I still remember correctly, in 2002. And since then, he became one of my most trusted and really good friends. We rarely see each other because of work and stuff, but I know that when the road gets a little bumpy, he is one of the guys I can count on to help me get back on my feet. We've seen each other through so many things - meeting new friends, falling in love, getting hearts broken, the birth of Zsazsa (first, the book, then the musical, then the movie), gaining weight, changes in career, and so on. He's both a little brother and a big brother. For all these shared life experiences, I will always love the guy. Happy birthday, Carlo Guapo! =)
Afterwards, we were off to see the movie. The special treat was getting to meet the guy behind the film, writer and director Bebs Gohetia!!! Woohoo! This is why I love social networking sites.
I tremendously enjoyed the film. It was a good watch for a Saturday night. Uhm, I love that it was in Visayan. That really made the film "real." Very rarely do I get to watch a Filipino film where the language is not Filipino. My only recall of a show that used a local dialect is a Cebuano telenovela entitled Isabel. That was when I was still in elementary school I think. And I dunno but I love that it was shot on location and you can actually identify the location. I mean, yeah, a lot of Pinoy films have provincial settings, but in this movie you know that it was happening in Davao and Bukidnon and so on. Of course, I have to mention the cast. I wonder if it was any difficult for them to "act," because they all seemed like they were just showing another day of their real lives. (Hmm, are they really byuconeras?! Hehe!) And then, of course I love the writing. It was as real as it can get. Or at least, that's what I think. I haven't really seen much of these pageants, but I have heard stories and getting to watch the film made me feel like I was really watching one. Hehe! Aside from just showing the glamour and the pressures of joining a pageant, I also liked it that the film also showed how life is for gay men in the countryside.
The film will be running at Robinson's Galleria until January 27 only. So if you still haven't seen it, go and watch it. It is worth the trip. And to Direk Bebs, congratulations! For making this film and for giving us a glimpse of a byuconera's life, all I can say is, "Thank you, girl!" Hehe!