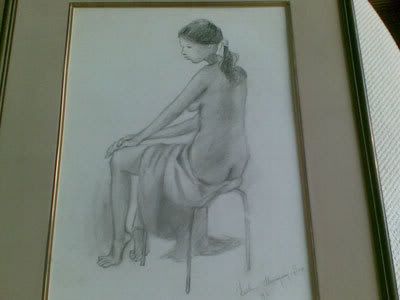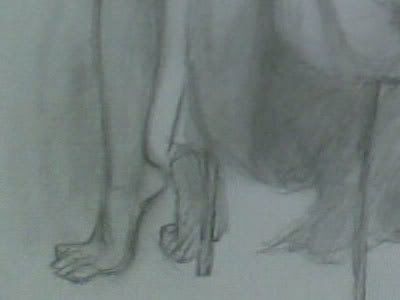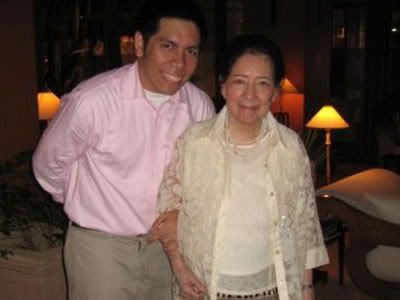 On a recent lunch with friend Grace, she mentioned to me that someone recently got duped into buying a fake Anita Magsaysay-Ho work. However, when the piece was brought to Nana for authentication, Nana broke the bad news that it was a fake. The owner just lost P150,000!!! Augh!!!
I'm a bit puzzled though as to why the buyer, whoever that person is, didn't first get in touch with Nana before acquiring the piece. Isn't that the logical thing to do? And I thought that the way the feet were drawn were already dead giveaways that the piece was a fake.
Grace also told me that a celebrity was planning to purchase a couple of Nana's works, and when they showed the pieces to her, only three out of the five were authentic. Shucks!
AMHO is one of my favorite artists. (Having a painter for a father instilled in me a certain love for the art world. Hehe!) Two years ago, I met Nana at a party at my former boss's house. Man, that was really one of the highlights of that year! I've always been a fan of her work even before I met her, so getting to meet Nana in the flesh was an ultimate "high!" Hehe! Even though I know I can't afford any of her works (yet! Haha!), I was already contented with seeing several of her works up close for a year in my former office.
It was also always fun to hear stories about her. Somehow, I got a glimpse of how she is not just as an artist, but as a Mom and as a Lola. Aww! I guess I'm really fond of her because she reminds me of my own grandma. Hehe! A bit ambitious, yeah? But look at the photo above and wouldn't you agree that I could pass as an apo. Hehehe!
Hay, anyway. Going back to the main topic of this entry, this whole art scam is just scary and saddening. I mean, if things like this happen even when the artist is still alive, what more when they've passed away and no one's left to authenticate?