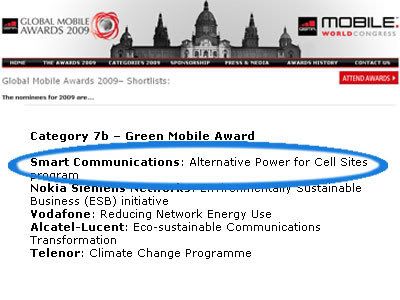 This post is kind of late but... "We're in! We're in!"
Found out some time last week that an entry two colleagues and I wrote for the Green Mobile Award category of the GSMA's 14th Global Mobile Awards was selected as a finalist for the said category.
Woohoo!!!
The Green Mobile Award category are for the environment friendly and innovative concepts or programs of mobile operators. Our entry is about the wind- and hybrid-powered cell sites operating in certain parts of the country.
How big of a deal is it?! Uhm, let's see. From the PR I read, more than 450 submissions for the 16 categories were reviewed. Of these, only 80 were selected.
And then there's the GSMA itself. GSMA is an organization that unites more than 750 of the world's mobile operators from some 219 countries. I'm not that familiar with how the group works, since my work assignment deals primarily with the corporate social responsibility projects of the company rather than the core business.
So I guess the hours and days of writing the entry just before the holidays paid off, huh? Woohoo! The winners will be announced during the Global Mobile Awards this Feb. 17. It will be in Barcelona. It would be really great if I get to go (to see Barcelona's culture really) but I know that chances of going are very slim. Hehe! Crossing my fingers and offering extra prayers for the award. But even if we don't get the award, I'm still super happy because this is a first for me.