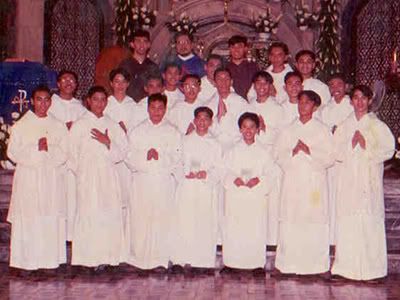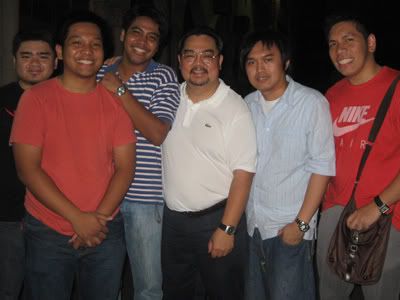 After the get-together at Ella and Gino's home last Sunday, I decided to head to Lourdes QC to attend Mass. I haven't gone to Mass there for the longest time because I've been enchanted by the Greenbelt chapel, so getting to visit Lourdes QC was nice. In fact, it turned out to be extra nice.
For more than 11 years, that was my home. Seven years of elementary school, and six years of serving as an altar boy. I have really fond memories of both the school and the church.
This time of the year is particularly special for altar boys because of the celebration of the Feast of Our Lady of Lourdes. I remember it was a big deal for all of us because of all the High Mass, the torch processions, and the extra special preparations, and so on.
So while hearing Mass last Sunday, I couldn't help but reminisce about those days when I was the one at the altar assisting the priest. Those were really good days. The fact that the one celebrating the Mass was Fr. Ed - the LSQC rector back then and who I assisted on countless Masses, weddings, not sure about a funeral - added to the nostalgia. Haha! I started to wonder what happened to my fellow altar boys.
I got my answer after the final blessing has been given and I started to make my way out of the church. When I turned around, there was this young man who with a huge smile on his face who blurted out, "Kuya Angelo! Aha! You're here. You have to come with me."
It was TJ, one of the kids I taught how to serve. I still remember him as this really small kid with dreamy eyes and eagerness to assist the Mass.
Before I could object, I was already led out of the church and we went to the very familiar parish office. There standing were TJ's brother RD and their barkada and fellow altar boy Mark. Gawd, they're all grown up! The elementary school kids are now a programmer, a nurse and a civil engineer. They told me that two fellow batchmates Ryan and Toby were in church so I asked for the numbers and called them. Unfortunately, it was only Ryan who got to join us. Ryan is one of the few I regularly see. He, together with his cousin Joseph, my classmate Allan and Peter, plus Dennis are the ones I hung out with back then.
We then headed to the nearby Jollibee, which was our old haunt, to catch up. I found out that some of them were already married. Some have kids already(!). Others have gone abroad. It was really great hearing what has become of the kids.
When dinner was over, we had the usual exchanging of numbers and the resolution to meet up again soon with the other acolytes for a reunion. Who knows when that will be? Haha! But I do hope it would happen.
And this is why the visit to LSQC was extra nice.
Lastly, I got to dug up one of the really old photos of my altar boy batchmates. The photo was taken during our investiture a million years ago. Haha! Can you spot me? I don't know what has become of my other batchmates, but I really hope they're well.