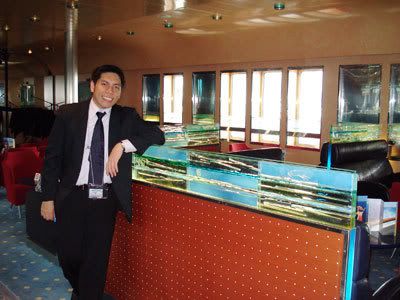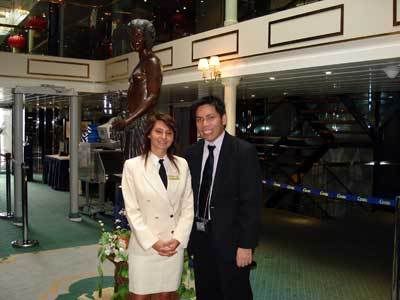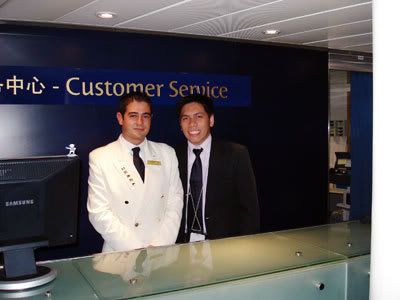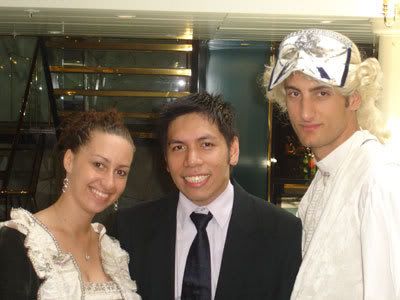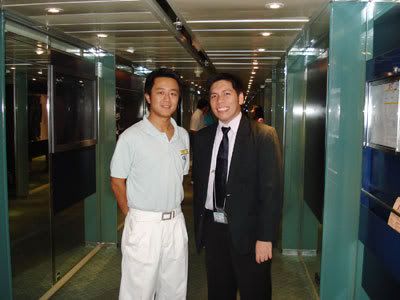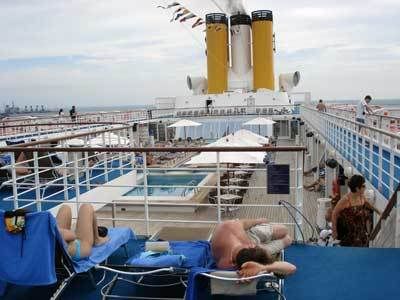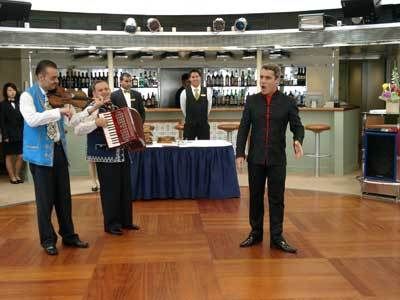 A couple of days ago, Costa Allegra had its maiden port call to Manila.
There is something exciting about watching a huge ship arrive at the pier. When another international cruise ship docked in Manila a couple of months ago, I remember my heart beat faster as the ship approached the port. I don't know if it's because it's an international cruise ship, or if it's because it's a different experience.
Anyway, I didn't get to watch Allegra dock. But just the same, my adrenalin started rushing when I saw the familiar Costa logo from afar.
As we approached the ship, I was just amazed once again. Maybe because the fact that it was so clean made it look so big, or because I was just excited seeing all these foreigners disembarking. I felt so proud as a Filipino seeing that there are still people who'd want to visit this country.
Initially, I wasn't sure if I would be able to go onboard. We needed our passport to go onboard, and since I haven't been using mine, I didn't bother to renew it when it expired a year ago. Hahaha! But lucky me, the security guy accepted it and the next thing I know, I was on my way onboard.
Upon entering Allegra, it felt like I was transported to another country. Although there were several Filipino crew, there were also a lot of crew from other countries. Plus, the interiors, the design and the overall feel was unmistakably Italian.
After meeting the Captain, we got a tour of the ship. It was a small cruise ship, because it can only accommodate about 800 passengers. Other Costa ships can carry about 3,000 passengers plus another 1,000 crew. I hope to see one of these giants one day. Hehehe!
Still, Allegra was a beautiful ship. There were about 8 decks, with several restaurants and bars, a pool, a jacuzzi, and a sunbathing area, a gym, a spa, among other facilities.
Each deck was named after the Impressionists and Post-Impressionists - Manet, Rousseau, Degas, Modigliani, Lautrec, Gauguin, and Van Gogh.
One of the areas I admired the most was the main lounge, which was named after the famous island of glassmakers, Murano. The bar/lounge has walls of smoked blue Murano glass and several other Murano pieces.
Afterwards, we had a sumptuous lunch at the Amalfi restaurant and the food served was just yum. Heck, even the bottled water tasted different, and I'm not kidding. Hehe!
Before we knew it, it was almost five in the afternoon. The passengers started arriving from their day tours, and we visitors have to start disembarking, unless we want to go to Malaysia on a whim. Hehehehe!
I stayed at the pier and waited for Costa Allegra's departure. One of the departments prepared a farewell activity for Allegra and I had to stay for that.
Sigh, there is also something about seeing a ship leave. It's like saying goodbye to someone when things are starting to get good.
Oh well, that's how things are I guess. Anyway, Costa Allegra will be back very soon.